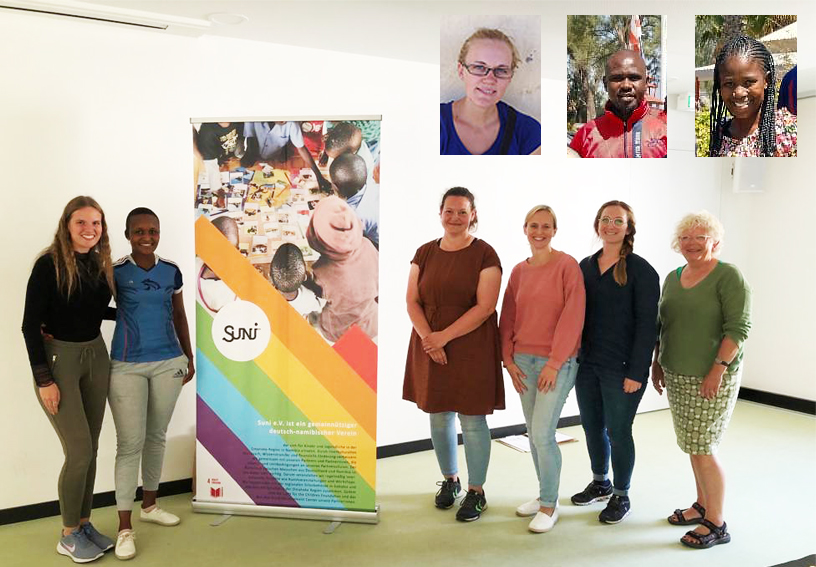 This year's general members meeting of Suni e.V. took place in a hybrid format. Namibian members could meet in Gobabis, German members in Vallendar, both events were connected in real time via zoom. Each member also had the opportunity to participate in the general meeting online.
Chairperson Corinna Erst chaired the meeting. After reports on the year 2021, the financial management and cash audit, the board was discharged.
This was followed by the new elections of the board, which Steffie Knapp and Johny Kahijeta took over as election leaders. Since Corinna Ernst resigned from the office of the 1st chairperson Patricia Ndjavera was proposed for this position. Ndjavera has been a member of the board of Suni e.V. for 6 years. Currently she leads the Namibian exchange group of the German-Namibian pedagogical exchange of Suni e.V. and represents the "Art for Education" team in Namibia. Patricia Ndjavera was unanimously elected as the new 1st chairperson of Suni e.V.
Patricia Ndjavera is the new chairwoman of Suni e.V.
She will be supported in the future by the new 2nd chairwoman Lisa Niemann (previously board member), the new secretary Corinna Ernst (previously 1st chairwoman) as well as Alissa Jahn, who will continue to manage the finances of Suni e.V. Barbara Scharfbillig and Claudia Wagner remain on the board. Newly elected as members oft he board were Evita Leis, Fiona Mokhatu and Vernon Malumani.
The new board thanked the outgoing board members Corinna Seer, Selma Gaingos and Stephanus Narib for their commitment and dedication to Suni e.V. and is looking forward to new challenges and the board work of the next two years.
Suni e.V. also honored five volunteers at the general meeting: Linda and Rober Bullen for the implementation of the water supply project for the Donkerbos Primary School, Lisa Niemann for managing the public relations of Suni e.V., Patricia Ndjavera for her commitment during the Corona Pandemic and Alissa Jahn for managing the finances of Suni e.V..
The general meeting and honoring of members were sponsored by the German Foundation for Commitment and Volunteerism.